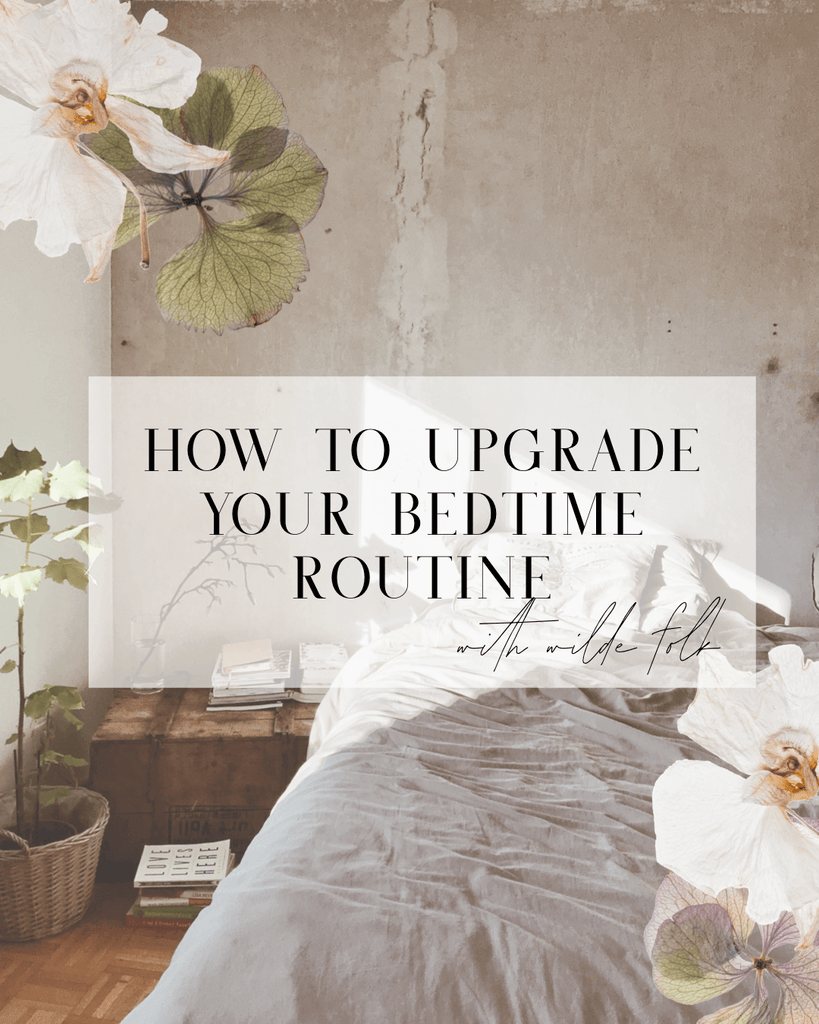 Hi friends!, 
 Today I wanted to share how my husband and I use our Wilde Folk blends for sleep support. 
Before I started making perfumes for Wilde Folk, I actually used essential oils to support me in my everyday routine. If I had anxiety, I would oil up with a special potion I whipped up of citrus & tree oils. If I had head tension, out came my peppermint & lavender oil. If I couldn't sleep...well you guessed it, I would reach for my lavender and cedarwood blend.
While I no longer market my products for wellness ailments, it doesn't mean their supportive magical powers have gone away. Which brought me to a little wilde hack my husband and I use every single night before bed.  
Before falling asleep, I always take the time to roll my Wilde Folk perfume on my chest, neck and wrists. Some aromatherapists even swear by using essential oils on the bottom of your feet - but I will get into that in another post. I know it may seem strange to put perfume on before getting in bed, but I promise...once you start, you will NOT want to stop... and not just because it smells good, but because of the crazy benefits!
One of my favorite blends to grab before bed is our Wilde Woman fragrance. This perfume is made up of a concoction of hormone friendly oils that double as your bedtime routine's best friend. It has lavender, to help promote relaxation. Cedarwood to help ground, and support the falling asleep process thanks to a chemical compound called cedarol. (In fact, feel free to look at the study here about cedarwood) And Clary Sage, the real MVP of the fragrance in my opinion, has been shown to help reduce cortisol levels, also known as the stress hormone (again here is a study if you want to learn more.) However, if you are pregnant take caution when using clary sage as it has been linked to early labor. 
Even though the name is Wilde Woman, it is beneficial to use on both men and women. However, if you or your partner are looking for something a little earthier, I suggest our new Wilde Earth blend! It's made with extremely grounding oils, such as patchouli, vetiver and cedarwood, along with relaxing herbaceous agents such as lavender.
Another one to keep close to your night stand is our Wilde Magic blend, as it's formulated with lavender, cedarwood, jasmine and blue tansy. While blue tansy is having a real "it" moment in the skincare world, it's also beneficial for relaxation. I know, oils are the freaking coolest, aren't they?!
So how do you actually use these oils for your nighttime routine? Almost the same exact way you use them in the daytime. Shake the bottle to awaken the ingredients & crystals, and then gently roll along your chest, wrists and I like to even get behind my neck. 
And there you have it, a little wilde oily hack for you. 
Enjoy & stay wilde cutie pies!
Ceci