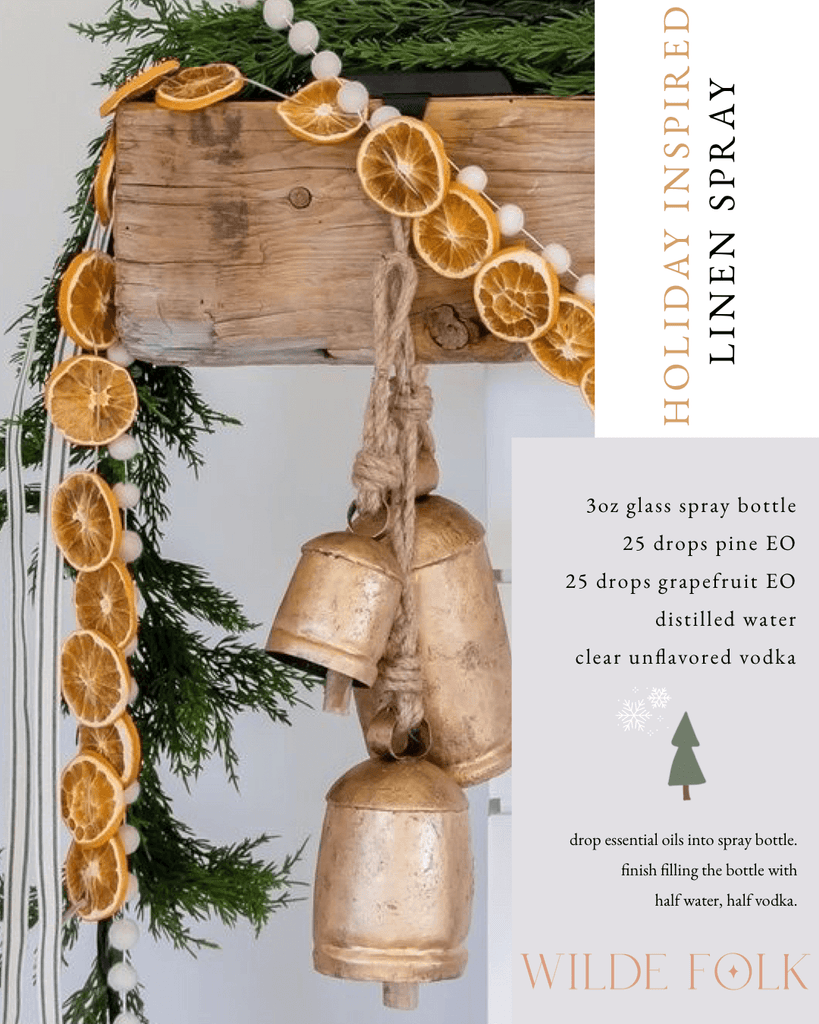 This is seriously one of the EASIEST DIYs I could set you up with...and people absolutely love it when you gift it to them. You will want to bookmark this DIY, as you can substitute the oils out for anything your little heart desires. You can create a linen spray for night time that includes lavender & cedarwood, or a summertime blend with lemon & peppermint. The options are seriously endless.
The base of this DIY includes Distilled Water & Unflavored Vodka. When making a linen or room spray, some recipes call for Witch Hazel...not here, Wilde Folks. I use vodka for a few reasons. 
1. It's unscented. While Witch Hazel does have it's useful purposes, I don't like mixing it with essential oils when it comes to a room or linen spray as it has a unique scent of it's own. Making the blend smell a bit different than my desired outcome.
2. Vodka is a deodorizer. I learned this tip from a family friend of mine while traveling to Mongolia. She in turn learned it from a friend who worked in theater. She exclaimed that instead of washing the stage costumes everynight they would clean their garments by misting a blend of vodka & water on them. I know it sounds too good to be true, but this works like a freakin' charm!
3. Oil & Water naturally don't mix, so vodka is here to be the middle man and help integrate the oils and naturally preserve your blend. Here, here to vodka!
What makes this DIY so simple is it only takes a few supplies, and you can create this bulk if you have a few loved ones you want to spoil this Holiday Season. Plus, it's super budget friendly! Huzzah!
When buying supplies for this DIY there are a few things you will want to keep in mind. 
1. Buy a glass or stainless steel spray bottle. I purchased mine from Amazon, but you can get some perfume bottles off Etsy that will really up the ante. 
2. Use high quality, and organic essential oils if possible. I personally love to either use Young Living or Mountain Rose Herbs. Do terra is also a great choice! You just want to make sure your essential oils are super pure, and not filled with any synthetic fillers.
Helpful substitutions for this DIY
+ If you can't find Pine Essential oil, sub it out for Black Spruce or Cypress
+ If you can't find Grapefruit Essential Oil, Bergamot or Orange are good options.
Happy crafting, Wilde ones!