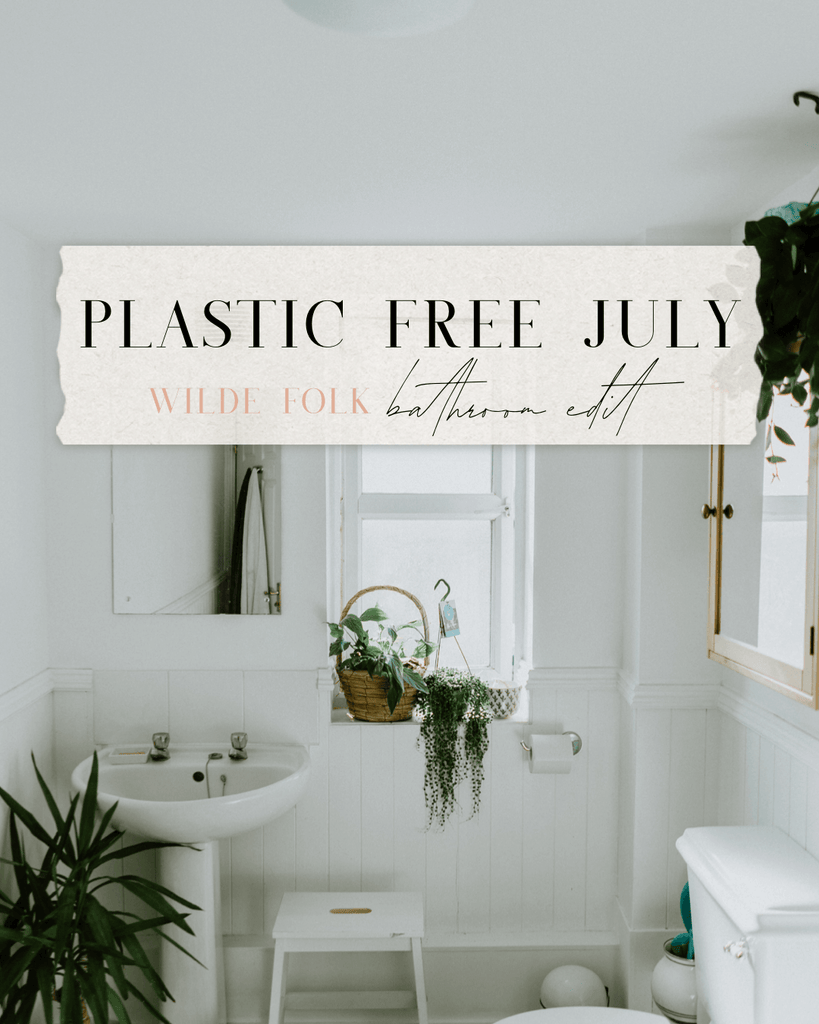 Hi Friends,
 Long time no talk! Can't believe it's already "plastic-free July" and any chance I get to round up some of my favorite sustainable swaps, I am going to do so.
While I am a big fan of creating a more sustainable routine in your home, I never recommend going from zero to one hundred as it's not sustainable in the sense of fitting into your everyday routine. Not only can it be super expensive to make the swaps all at once, but it can lead to burnout and create more chaos in your routine instead of simplicity. Just like everything in life, moderation is key! I invite you to take the opportunity to swap out 1-2 products this month and see how it feels, and integrates into your daily routine.
So first, let's get started with some simple bathroom swaps. Again no need to replace everything all at once. But this is a great list to keep around and reference over the next few months so you can continually swap out your products for some more sustainable options. 
1. Opt for a bamboo toothbrush instead of a plastic one! This is a super easy swap, and in all honesty I think the bamboo toothbrushes look prettier displayed on a countertop than the super colorful plastic ones. Once your bamboo toothbrush has seen its better days toss it in the compost and let it biodegrade!
2. Shampoo/Conditioner bars - I have yet to make this transition however I am eager to do so once I finish up my last Prose subscription bottles. I have heard wonderful things about Ethique, Hi-Bar, and The Earthling Co Options. If bar shampoo isn't your thing, I encourage opting for a shampoo/conditioner product packaged in aluminum bottles such as the ones by Human Kind or the ones over at Package Free Shop. Just wash out the bottles before tossing in the recycling bin.
3. Bar soap - I always love the Dr. Bronner's soaps as they are wrapped in paper that can be composted/recycled. There are also great hand-made options at your local farmer's market, or even Whole Foods. 
4. Toothpaste - While I didn't have the best of luck with the toothpaste bites (they got stuck in my molars) I do love using David's toothpaste as it comes in recyclable aluminum packaging, making it an easy option to recycle once finished. Package Free shop also carries some toothpaste powder that I have never tried out, but wanted to share in case it intrigued anyone!
5. Deodorant - I'd be lying to you if I said I only used zero-waste deodorant, however I did discover one that really works, and I absolutely LOVE and it's by a company called, Sustain Yourself. Due to the extreme Summer temperatures in Texas it's not a viable option for me to order in the mail during these months as it can melt upon arrival, but I was absolutely SHOCKED to see how this deodorant kept me feeling fresh, and rash-free in the sweaty summer months. I tried out the little travel-size options and once the jars are washed out, they are a great little storage containers for rings, jewelry, or even a container to hold supplements/vitamins when traveling.
6. Menstrual Cups - Not only do period cups help our planet, but I truly believe it's a more comfortable option than a tampon/pad. I have been using my Diva Cup since 2016, and I have NEVER looked back. Using a menstrual cup has SO many benefits, and there are a lot of companies that offer them now. Heck you can even buy them at Target, Whole Foods, and even some grocery stores. If one cup by a specific brand doesn't work out or feel comfortable, try another brand! While lots of people have luck with the Saalt brand, I found that Diva Cup fit my needs better.  
7. Plant-based floss - I have tried a few plant based floss options that are unfortunately not strong enough when put to the test...aka it breaks immediately upon flossing. However my husband discovered a great compostable floss-pick that he found on amazon by a company called The Humble Co. 
8. Refillable Hand Soap - I have shared this option many o' times on my instagram, however here I am sharing it yet again. I absolutely LOVE the Blueland refillable soap as it comes in a beautiful glass container, with non-toxic refills that are also zero-waste. It's seriously a win, win, win! 
9. Tree Free Toilet Paper - Our household has been reppin' the Who Gives a Crap toilet paper since 2020. However I will admit it's definitely not the softest option, but I do love how it can be shipped via subscription snail mail AND they donate 50% of their profits to help provide clean water & toilets to people in need. Unlike other toilet paper found at the grocery stores, Who Gives a Crap is also wrapped 100% in PAPER. Meaning that you can recycle or compost the packaging after unwrapping. They wrap their rolls in individually and in paper to keep everything moisture-free and hygienic upon shipping & handling. 
While there are many more plastic-free options for the bathroom, I thought I would start kinda small and keep it as functional as possible for everyday busy people who don't want to go out of their way too much to be more eco-friendly. 
Hope you enjoy and I'll be back soon with some other plastic-free options later this month!!